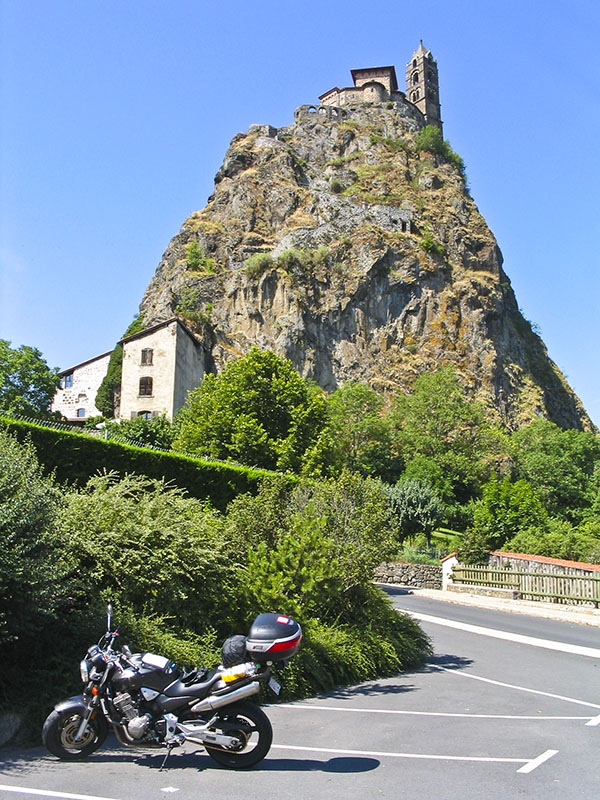 In this blog post I will explain the steps required to ship your motorcycle overseas yourself and details about registration and insurance, required paperwork and preparation of the bike.Using specialized shipping companies is usually not worth it – they will not clear customs for you when you arrive and they don't prep your bike when you deliver it to the airport, typically all the shipping company will do is book your shipment and provide you with some of the required paperwork, and taking a huge percentage for little effrort. You are left doing most of the legwork so I do not recommend using a shipping company unless they do these things. I have experience shipping a Honda 919 Hornet from Calgary, Alberta, Canada on Air Transat to Gatwick airport, London, UK in 2006.  I'm also including some information from friends of mine that have shipped their bikes from Vancouver to Frankfurt in 2010, and most recently Calgary to Frankfurt, Germany in 2012.  This post discusses flying your bike air freight one-way, and then storage overseas.   People often debate weather or not it is worth shipping and my answer is usually that if you are planning to use the bike in Europe for more than about 2-3 weeks, then it is a tossup in terms of cost.  If you're going to Thailand, rentals are less than half the price so renting might be a good option.  Of course there is less effort renting, and less risk, however rental companies for bikes may make you put down a deposit of as much as half the price of the bike.  If you plan on going overseas on a regular basis or for long term, then shipping your bike there is a good option.
The savings shipping by sea are usually not worth it.  Shipping by sea from Canada to Europe you are looking at about $800+ and an uncertainty factor at when the bike will arrive at port, and you may be responsible for storage fees at the destination if you are not there exactly when the bike arrives.  By air freight, you are looking at about $1000 to $1300 one way if you get a good deal, depending if you ship your motorcycle crated as non-hazardous (battery and gas removed), or stood up and strapped down to a wooden pallet provided at the airport, and labeled as hazardous (with battery and 1/4 tank of gas or less). Note that return shipping back to (for example) Canada, may be expensive, often even more expensive. You may find that shipping back to Canada costs double the cost to ship from Canada. Air Canada had a promotion a while ago where you could ship your motorcycle to Europe for under $1000, but return shipping was about double that. Usually shipping hazardous is your best bet as it will cost ~ $80 extra and you save yourself the trouble of the crate, battery purchase and getting gas issues.  This does not include the customs clearance at the other end which may run you about $200+.
For additional information or specific countries for shipping to and from, I find searching Horizons Unlimited and ADV Rider indispensable.
Step by step what you need to do:
Quotes, Arrival Times
Get quotes from various airlines on air freight for shipping the motorcycle.  Be sure to ask them exactly what they need done to the bike, what they need from you, and what paperwork they need you to have or fill out.  Often they will have options, hazardous or non-hazardous, and crated or strapped to a pallet with clear plastic wrapped over your bike to prevent damage and associated costs for both options.  It is usually only $80 more to ship on a pallet, they roll your bike onto a pallet and cut two holes for your tires to go in the boards and the bike sits pretty stable on it, they tie it down.  It's much easier to just leave 1/4 tank of gas, battery disconnected but still installed.  If you ship in a crate you have to worry about taking the front tire off, windshield off perhaps, not shipping the battery and completely draining the gas tank and needing a jerrycan and new battery at the destination if you ship non-hazardous.
If you decide to ship in a crate, you can find out the total crated weight of your shipment with dimensions by looking up the wet-weight specifications of your bike online or in the manual, subtract 3/4 gas volume weight, add crate weight, and determine crate dimensions.  A typical sport bike crate might be 30 inch wide, 42 inch tall, 89 inch long,  80 lbs.
Usually you'll want to arrive on the same day or within 1 day of the arrival of your bike. Make sure that the customs office will be open when you get there or else you'll be wasting valuable time after arrival waiting for your bike.
Get bike ready, luggage considerations
Read my blog post on minimal packing lists for motorcycle touring, to decide how much luggage and what type of luggage you may want to mount to your bike.  The blog post goes into detail about lots of things including electrical things.  You may be able to get away with a single top case if you pack lightly.
Think about power on the bike, will you need a 12V power socket?  These are pretty easy to wire, you will at least need an all-weather socket with an in-line fuse, the whole arrangement will cost about $15.  You might also want to wire an automotive relay to your tail light circuit.  Here is a diagram that I drew up long ago for this.
Get International License and Insurance
In Calgary, you can get an international drivers license which is good for 1 year for about $25 at AMA offices in Canada.  It takes 10 minutes.  The license is to be used in conjunction with your Alberta drivers license if you are pulled over overseas.
You will also need motorcycle insurance.  In the EU it is called Green Card insurance.  It is relatively cheap and you have various options.  To get your green card insurance ahead of time and mailed to you at your home address, prior to your trip, the cheapest way to do this that I know if is through Moto Camp in Bulgaria. As of this writing they only provide liability insurance, and it is very reasonably priced. They also offer bike storage that is a lot cheaper than Knopf Tours in Germany.

Optionally you can purchase road side assistance insurance.  Knopf Tours out of Heidelberg Germany is a good resource for this.
Full coverage or collision coverage, from what I have found, is quite expensive and probably not worth it.  Few people get it. I cannot recommend any companies that provide it as I am not aware of them.
Be sure to get travel health insurance also, often it can be covered by your credit card for up to about 22 days. If you need longer coverage, look into the company called World Nomads, however look at their fine print, their terms may have changed such that motorcycle riding could now be designated as risky and costs extra.
Your motorcycle registration documents do not need to be up-to-date. As long as you have proof that you own your motorcycle, that is all you need.

Prep bike for shipment, and get forms

If you use a crate, there is the issue of getting and moving a crate (for example from Walt Healy in Calgary for about $75), and if shipping back after the trip, storage or buying a new crate, and you often need to remove the wind screen and the front tire to make a bike fit into a crate, so that leads to the issue of putting the front tire back on overseas in a cargo bay.  However a crated bike is often the cheapest way for shipping.
The other option is on a pallet which I prefer because you do not need to remove the tire, and you can have more luggage  mounted to your bike when it ships, luggage containing tools for example that might have otherwise made you go over the checked baggage weight allowance in the airport.
When shipping hazardous you leave less than a quarter tank of gas in the bike, and disconnect the battery.
When shipping non-hazardous you would need to remove the battery all together, and remove all of the gas and provide a letter from a dealership who did this for you.  Again, Walt Healy can do this for you. However, this poses an issue at the cargo bay overseas when your bike arrives.  You'll have to figure out how to get a battery, and gas at the other end.  Maybe you've got a friend that can get these things for you waiting for you there?  My preferred method is shipping hazardous (with appropriate sticker and paperwork) on a pallet.  It may cost a hundred dollars more but I think it's worth saving the hassle.  They do the work for you, loading the bike on the pallet.
Be sure to bring the bike to the cargo terminal at least 48 before if flies out, or per instructions they gave you.
You need to leave an extra motorcycle key with the bike before it ships so that if the pilot wants to check to make sure there is no gas in your tank he can do so.  I suggest you have 3 sets of keys at least, two for yourself and one for the cargo terminal.
Usually they will want the bike clean and free of bugs.
Bring the original title or bill of sale for the bike.  You may also need "proof of insurance".
Hazardous Goods label (number "9" sticker) one for each way, as well as copies of hazardous goods forms (that is, if you are shipping it as hazardous goods).  It's about $50 to get the dangerous goods documentation.
Photo ID, and written permission from any Lien-holder to take the bike out of the country.
On return shipments, customs entry forms you recieved at the port of arrival.

Here is an example of the sticker, and dangerous goods form:


 Clearing Customs

Request when your bike is being shipped that the "Airway Bill" description include the following text:

"USED PERSONAL EFFECTS AS UNACCOMPANIED BAGGAGE'

"USED MOTORBIKE"

This will apparently help avoid delays once the bike arrives at the destination.

Be very clear with everyone you deal with, that you are only temporarily importing the motorcycle and that it will be return shipped.  This way you do not pay any duty fees on the value of the bike.  Even if you do not plan on returning the bike to your country right away it's probably in your best interest to pretend you are shipping it back soon. As long as you don't sell the bike (which in itself may be difficult or impossible to do as you are not a resident of that country), I don't think there is any issue.  This is a topic open for discussion and research.
Find out when the customs office is open.  You can arrange to have a freight agent handle clearing customs for you for a fee of a couple hundred dollars, or you can go to the customs office and clear the bike yourself for usually about $60.  Customs offices are often closed to the public on certain days of the week.  For flying into the UK, I believe it is now mandatory that a Customs Broker clear customs for you.  If you want to help out your broker or attempt to clear customs yourself, you will likely need to fill out temporary importation form C110.  More forms can be found on their customs website.   A customs broker will charge you about $200 to do almost no work at all, but it is probably worth the money to save you the hassle.  They simply fill out a couple of forms and fax it off to customs to clear you.
I suggest you allow for up to 2 days of waiting time to clear customs unless you've got it all researched and figured out ahead of time.  I didn't plan things ahead of time in London Gatwick and I ended up staying over night in a hotel until I could find a freight agent and the customs office opened up.
Keep a copy of the paperwork for when you are shipping the bike back.

Storage

If you don't have any friends overseas to store your bike, consider Knopf Tours out of Heidelberg Germany.  Or if you prefer, in Bulgaria there is a significantly cheaper storage (and cheap liability insurance!) company called Moto Camp.
Be sure to take notes or photos of your bike before you leave it there, this way you can have a record of things like tire tread wear, chain or sprockets wear and parts that need replacement, so you can be prepared with tools and/or parts next time you go. These photos might also come in handy if you plan to sell the motorcycle while you are away.
Fill the gas tank full and add an appropriate amount of fuel stabilizer.
Drain the oil. Oil can be refilled just prior to your next trip.  I usually don't worry about flat spots developing on the tires in storage because I have not witnessed them (2 years at a time, Michelin Pilot Road 1 and Pilot Road 2 tires).

Going back another year

There is no need to renew your registration for your motorcycle before you go back overseas to ride it. The police overseas do not care that you are not paying your home country this tax. So all you need is to get your Green Card insurance for the countries you wish to ride in. Be sure you carry proof that you own the motorcycle (bill of sale, or title, or registration paper that is expired, depending on what you have).
Arrange for your battery to be recharged, or arrange for the purchase of a new battery. Arrange for oil to be filled in your bike.

Most importantly, have a great adventure and have fun!