Packing too much when traveling is bad, it can limit your options for what you are able to do on a trip because of limited luggage space on a bike.  I've compiled some packing lists below for the light traveler.
Also check out my blog post on how to ship your motorcycle overseas.  If you're interested in such a thing.
It's impossible to plan for all bad things that could happen.  If you are traveling in somewhat densely populated countries that have hardware stores in most towns, and motorcycle shops in most cities, then you don't need to pack as many tools and parts.  If something goes wrong it shouldn't be too difficult to go to the next town or city to get what you need.  My experience is mostly in somewhat densely populated countries where there is civilization every 150 km or less.  I know some people that traveled for much longer and in remote areas and at the end of this article I list some items for traveling in places such as South America, Mongolia or Africa, but I only briefly touch on some items and the list is not exhaustive. My experience: I've ridden on four occasions for a month at a time all over Europe with and without my girlfriend, camping as well as just B&B and hotels through 17 countries, ridden a week in Thailand, countless weekend rides in Canada and the USA with and without camping, and countless day trips, and some over night dual sport rides camping.  For longer and more remotely populated countries I won't touch on all the items but I would think most items I mention should also apply.  The lists don't include comfort items so you'll need to add those.  I've tried my best to make the lists as compact and light weight as possible but at the same time being practical and realistic.
Protective Riding Gear Considerations:
If you are using hard cases to protect your belongings from theft and you will want to leave your motorcycle and go hiking without carrying your gear with you, the "size" of the protective gear you are wearing will be a large factor in the amount of luggage you will need, and in how long it takes you to change out of your gear to go walking around.  Heavy riding pants and heavy riding boots can pose issues.  For helmets, I often just carry it, but will also lock the chin strap under the bike seat and leave the helmet with the bike.  In the photographs of storage options below, I can change out of my riding gear, store it in the Givi cases and go hiking.  The reason I get away with a single 52 liter Givi top case
is I am not wearing huge protective riding pants – I wear Kevlar jeans such as the ICON STRONGARM 2 pants
.  These pants are light enough that I can hike in them or walk around for long distances.  They are also small enough to put into the single Givi case along with a relatively small riding jacket, so I can change into hiking pants.  The riding jacket and jeans would be laid flat on the top of everything else in the Givi case.  A large back protector would also occupy some extra space.  In the photograph from Germany further below where I had 3 Givi cases, Jill actually had large textile pants with knee armor, and she had a full size back protector and she could fit all of that into the third spare Givi case, along with my full racing jacket with armor and a small back protector.  She knew that real race boots would not be practical though so she wore hiking boots like me, so that we wear the same boots riding and walking around or hiking.  So basically you must make decisions on your riding gear and sacrifice some safety for security and walking freedom,  if you want a more compact luggage setup.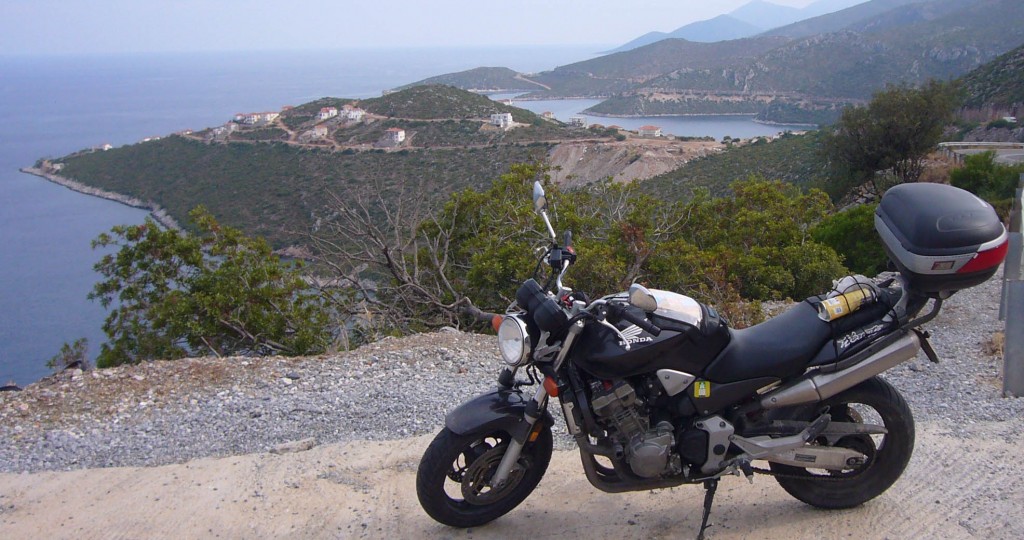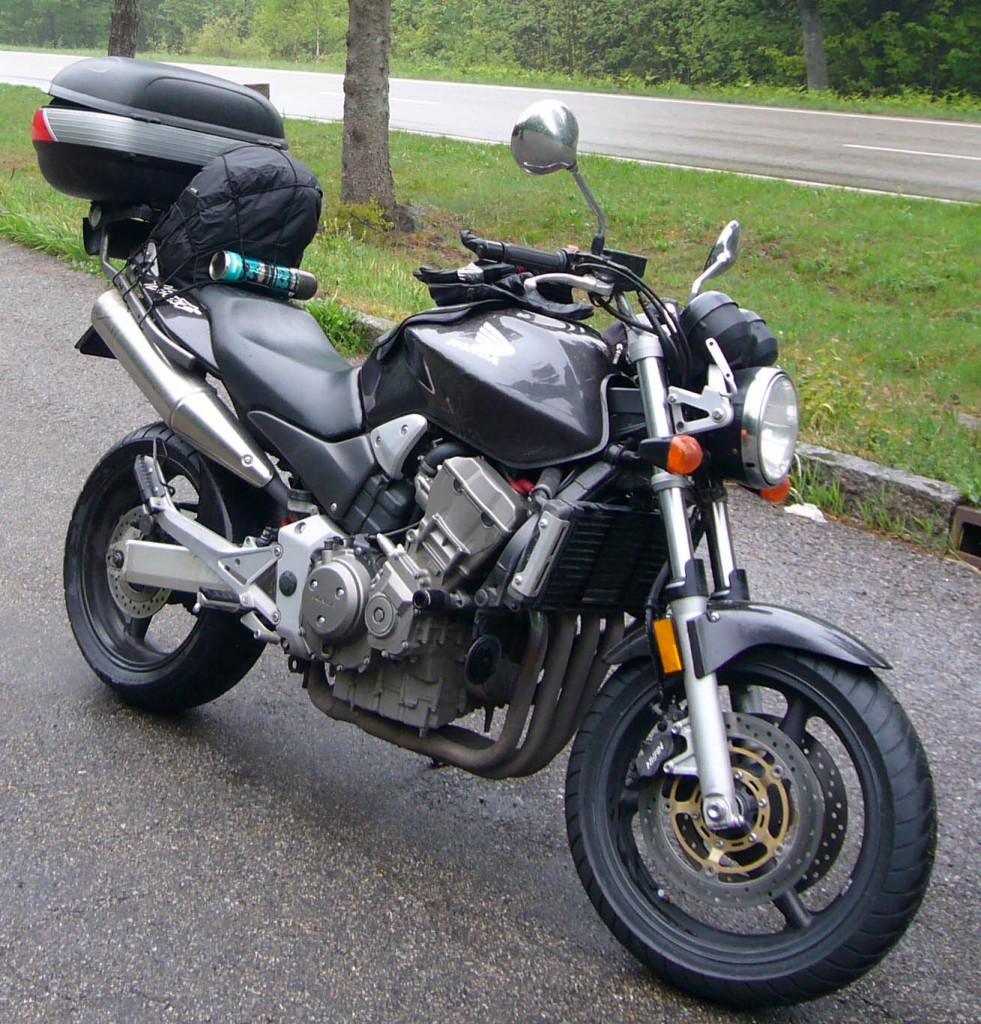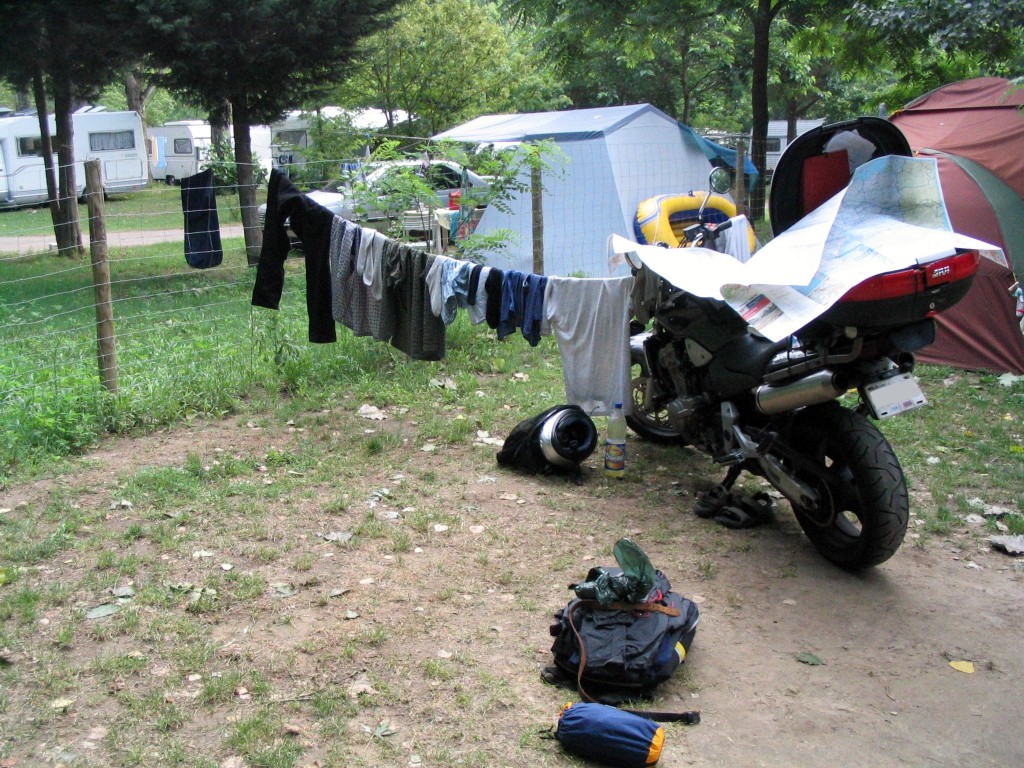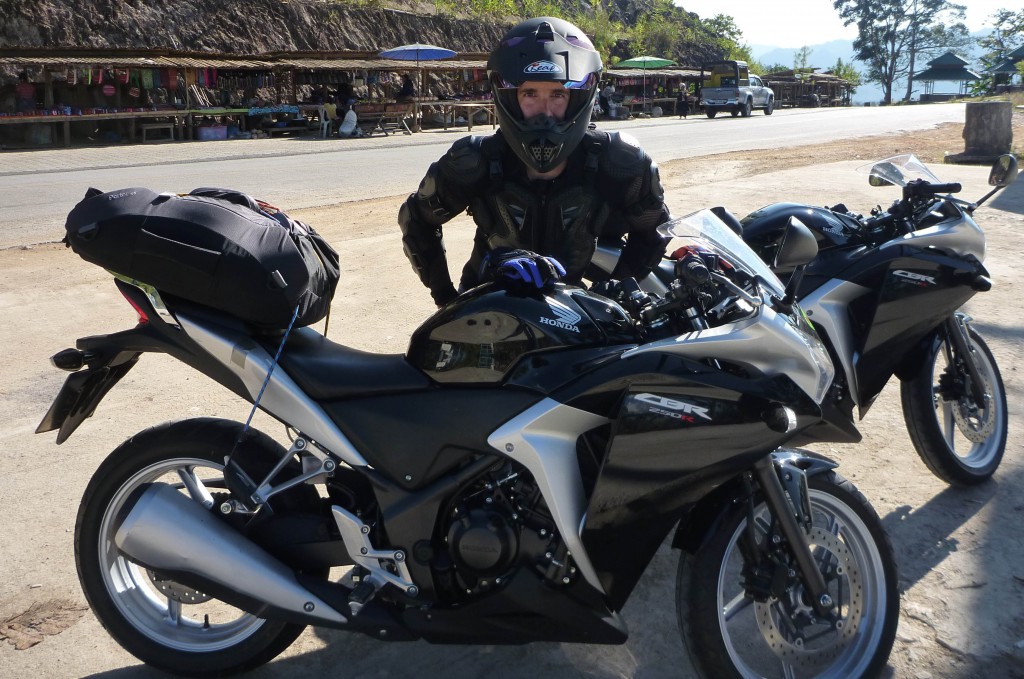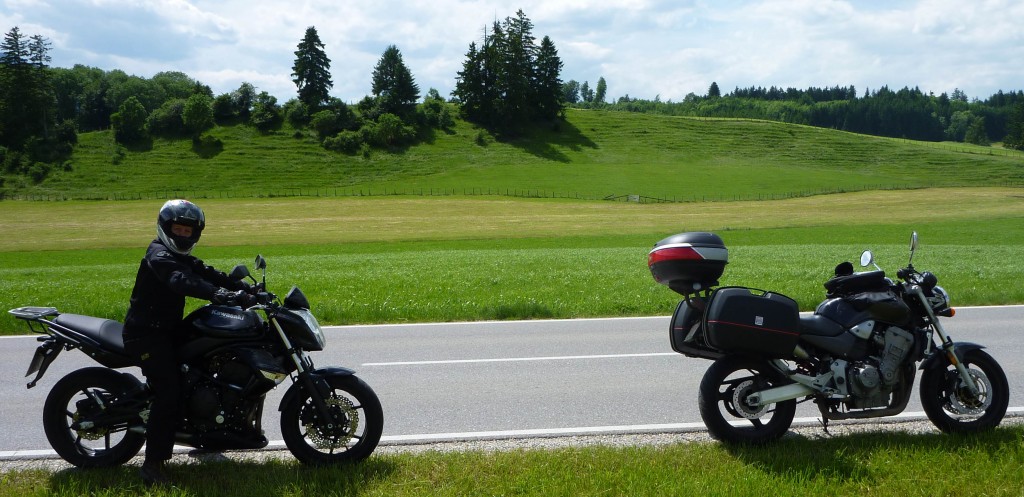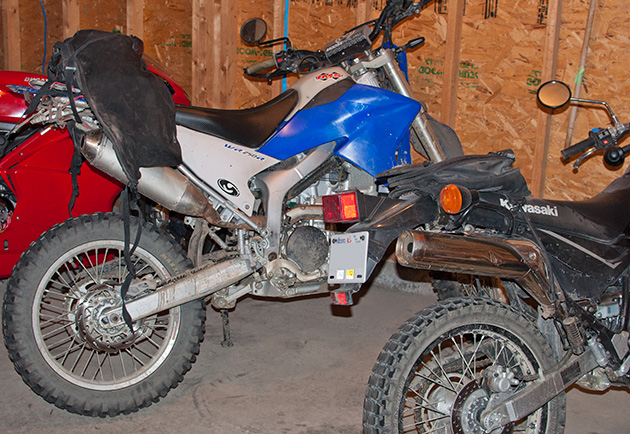 This article is divided into the following sub categories:
DAY TRIP RECOMMENDED ITEMS:
Registration, insurance and a spare bike key.  It's surprising how many people forget these things!
Properly fitting full face helmet, ideally with that flip-down sunshade feature so you don't have to bring a tinted visor or sunglasses.  Consider putting Rain-X on your visor to repel water.
Boots that cover the ankles such as hiking boots (if you want to walk around a lot comfortably), or actual riding boots.  Ankle bone protection is a must.
Riding jacket with built in padding in the arms etc, ideally with vents you can open and close.  For much warmer climates such as Thailand, I suggest you instead buy some motocross body armor that fits snugly but lets the wind go right through.  You can buy the full MX body armor (Amazon link, about $50), or in Thailand or on eBay for about $40 too.  Exactly like the Fox Racing armor.
Protective pants.  Ideally something that is breathable, with padding in knees and hips and does not hinder walking if you plan on walking lots.  I like the ICON riding jeans with Kevlar material or similar, but I don't really recommend this as there is no padding.  I'm stubborn and wear them anyway.
Riding gloves, ideally something with some padding, fits snugly.
If it's really cold consider heated grips and heated vest.
If rain is expected, my compact rain gear consists of plastic glove covers that go over the gloves, plastic boot covers, a rain jacket, and rain pants.  The rain jacket and pants are nothing special and you can buy from anywhere or from a motorcycle shop.  The plastic glove covers I buy from United Farmer's Association, they are artificial insemination gloves for cows, and I cut them down in length so they're about half as long.  The boot covers I tuck under my rain pants, they have elastics at the tops, and I also buy them from UFA.  These all pack quite compactly.
DAY TRIP OPTIONAL ITEMS:
STORAGE: You only need your pockets but might want to carry a small backpack or a tank-bag or tail bag.
If your directional sense using time and the sun is poor, consider a Suunto A-10 Compass attached to the back of your left glove. I drill extra holes and string it to my glove
If you need more navigation,  a map reader that sticks to your gas tank by magnets or straps. Or perhaps you have a Bluetooth headset from Cardo Systems such as the Scala Rider Q4 multiset (2 riders), and your smart phone has a Bluetooth and offline GPS turn-by-turn navigation.  My Nokia E71 with open street maps is an example.  I still haven't found a good solution on my Andriod phone for offline turn-by-turn voice navigation.  The Bluetooth headsets are great if you ride with a partner frequently.  However the solitude without speaking to people while riding is preferred by many.
Carry a small first aid kit (especially on group rides)
Flat tire patch kit like the Slime 2040-A Tire Plug Kit
12V all weather socket wired to the battery of your bike with a fuse holder, 15 amp fuse inline
12V portable air compressor such as the Airman compact air compressor
Tire pressure gauge
GoPro HD HERO2: Motorsports Edition or ContourHD 1080p Helmet Camera on your helmet or bike.
Ear plugs, mp3 player, miniature flashlight.
Metric folding hex key set, Japanese and Italian bikes use a metric set, I prefer the hex key sets that fold into a rubber dog-bone shape thing like in that link.  Multitool.
Small roll of duct tape, or I like wrapping a bunch of duct tape around a pencil to be extra compact.  Also a small roll of electrical tape.
Bottle of water.
Small squished mostly used roll of toilet paper in a ziplock.  Clean bugs off the visor, blow your nose, wipe with it if you're in the boonies.
MULTI-DAY TRIP RECOMMENDED ITEMS:
Day trip items, plus:
MULTI-DAY TRIP OPTIONAL ITEMS:
WEEK OR MULTI-WEEK TRIP RECOMMENDED ITEMS:
Multi-day items above and consider seriously the optional items listed above such as all the tools mentioned, plus:
CAMPING GEAR:
If you are traveling alone I highly recommend a Hennessy Hammock Expedition Asym hammock tent (good for up to 250 lbs person).  Bivi sacks also work, particularly the kind with the bug netting and rain protection hood.  I prefer hammock tents due to them being ultra compact and very very comfortable.  No need for a Thermarest.
2 or 3 person compact tent, if you want more privacy and have a partner.  I like my Asolo Hawk 3, 3 person tent, I don't think they sell it any more but they have another tent called the Asolo Equipment Harrier 3-Person 3 season Backpacking Tent and it will fit nicely inside and only take up about 1/3 of a 46 liter Givi case.
If you bring a tent or bivi sack, I recommend a compact Thermarest for each person.  The Therm-a-Rest NeoAir Air Mattress is the most compact I could find and I love it, it is warm and comfortable and I highly recommend it.  Thermarest also makes another slightly larger sleeping pad Therm-a-Rest ProLite Plus Mattress which is also excellent, and almost as good at insulating. Some people actually prefer this one over the NeoAir because it's not as "noisy" when you move around and wider.
If you are in a warm climate do not bring a large sleeping bag, they're just big and cumbersome and too hot.  You can find sleeping bags that are just a little bigger than a small bag of potato chips and they are good for almost freezing temperatures.
If you are in a warm climate don't pack warm clothing.
For cool temperature camping I just wear layers and my riding jacket to keep me warm.  If it's much colder, you can get a duvet jacket that compresses and packs down really small but is also very warm.
You can buy really small quick-dry towels, they are smaller than a potato chip bag rolled up and they dry off really fast. MSR Packtowel is a very small example of a minimalistic towel and quick dry
If you need to carry your own water, consider Platypus water hydration packs, 2 liter.  Also good if you are transporting water for cooking.
If you are optionally cooking:
STORAGE FOR CAMPING:
If you plan on leaving your motorcycle to go hiking or walking for extended periods and are afraid to have things stolen, consider having locked hard cases such as the locking Givi case system.  This way you can pack your camping gear all up into the bike.  I find that camping with a partner we could put both helmets locked with chin straps under the seats, and the tent and camping gear into one 45 liter side case, and with the additional space in the other two cases we could put our riding jackets, and change into hiking gear.
If you go alone you can get away with half or less than half of the Givi luggage mentioned above.  It was a tight squeeze but I was able to do the above with only a single 52 liter Givi case, camping with a hammock tent, but I didn't pack any food.
If you do not plan on leaving your motorcycle for extended periods or are not afraid of having things stolen, a larger sized tail bag, saddle bags, or bungee'd down back packs depending on how much you are bringing.  If you are using hammock tents you might only need about a 46 liter pack per person for everything.  I recommend the Osprey Porter 46, they can double as luggage on an airplane and they fold up nicely into other luggage, and they are expandable and comfortable and light weight. I used these in Thailand with my girlfriend and they are very comfortable and versatile, we used them as tail bags as well. They do not have any hard back support ribs and are light weight, simple, compact folding
Leave a comment below if you can think of anything to add or remove from my list :)